Posts tagged
Junk Car Portland

Junk Car Portland – Cash For Junk Cars
If you have an old junk car in Portland that you don't need anymore, why not call the ideal company to take it away from you.
Many people don't take their time to find the proper place, and end up calling the first Company in line. This can be very dangerous, since you don't really know them, they can easily double cross you.
The best way is to investigate the business, making sure they have a permit. Another plus is if they have a legit website with everything that their offering, explaining properly what they do.
If they don't have a website, chances are they won't be offering you much for your car.
Another alert to watch for is scams. For instance giving you a price over the telephone, and once the tow truck arrives, they change the price due to a problem with your vehicle, such as missing something important from your car.
It's important to get a good deal for your car and avoid scams. Avoid websites such as Craigslist. There have been many scam stories heard from this website, so be careful.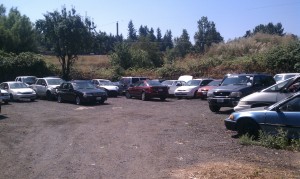 A good website will offer you the best service for your junk car in Portland right from the start. You'll get a quote immediately, to see if you are satisfied with what you've been quoted. Look into what their business offers.
Another trick a junk car Company can do is quote you a price for your car on the phone, and when they arrive, they tell you that they must deduct for the towing of your vehicle from the price that you had agreed.
If that was the case, this should have been discussed with you from the start, so consider it another trick. Many of the "cash for junk car" Companies are running illegal. This can risk many problems.
As soon as you call us, you'll see that the price that we give you over the phone is what you'll get. We are proud to do honest business so you can be happy with what you receive.
Selling your car should be an easy transaction if you deal with us. We pay for all cars even if they are in a bad shape. We have a reputation of satisfied customers that have done business in the past and continue to devote their trust in our company. Our customers appreciate our service.
If you own an old or new vehicle, and want to get rid of it, call us and we'll tell you what to do. We will help you by removing your car as soon as possible.
You'll be asked a few questions such as what model your car is, the year and the make. There isn't a vehicle that will not get accepted.
As soon as you get our quotation, you'll be taken care of as soon as possible, even within a few hours.
All you need to do is call us today and let us take care of you. You don't need to worry about anything when you're dealing with "Cash For Cars Portland". We will make sure everything is prepared for you even the paperwork. We are just a phone call away.